Would you like to join us as an Africa Runner, but you are not sure how to fill in the registration form? Here is all the information you need to help you log on. If you have any further questions, do not hesitate to contact us directly!
Campaign title?
Please fill in the name of your donation run. This will help you collect donations. Since all Africa Runners gather donations for children in Africa, a title could be "Running for children in Africa". It is also helpful to mention the name of the event you're going to participate in, the location (if it is not already mentioned in the event 😀), maybe the country code and the distance you would like to run. Do not worry if you want to make any changes: you can amend the campaign title after you've registered.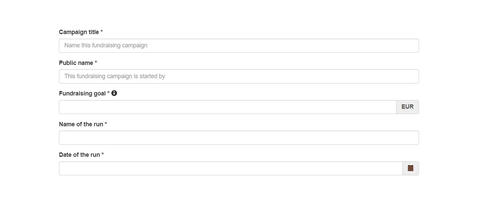 Public Name
Please enter your name here. Your name will be shown publicly as your fundraiser account. We recommend to enter your first and last name so that donors can easily connect your donation run to you as a runner.
Fundraising goal
A fundraising goal will help you collect donations. On the history bar, you and your donors can see how much you have already raised and this also increases the likelihood of others donating to your campaign. Don't set the initial fundraising target too high - you can always adjust this later if you realise that you are about to reach it.
You've reached your fundraising goal?!
Have you reached your fundraising goal? Great! If further donations are received, that's no problem - you can go above your original goal. We do however recommend that you increase your fundraising target as sponsors are more willing to donate if your goal has not yet been reached.
Name of the event
Please enter the official name of the event you are participating in as an Africa Runner, even if you have already entered the name of the event in the "Campaign title". We need this information for our admin work. Top tip: Visit the website of your event and copy the official name of the event.
Date of the run
We'd like to know when your event will take place – for our admin work.
Duration of my fundraising campaign?
After creating a campaign, the duration of your campaign is preset to 60 days. You will receive an e-mail with a link to your personal Africa Runner account and profile, where you can determine the end date of the fundraising campaign yourself.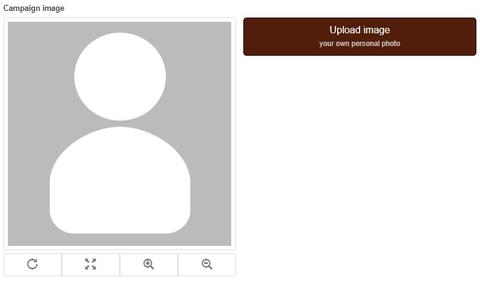 Image
Upload a picture of yourself! If donors can see a pic of you, it'll makes your campaign more likeable, and you'll collect more donations!
Describe your fundraising campaign!
It is very important that you explain the reason why you want to collect donations and which project will benefit from the donations. We have prepared a description, but you are welcome to personalise it. For example, you can mention your event again in your customised text. The description will be displayed to your potential donors when you share your fundraising campaign to collect donations. In addition, you can write a personal letter of thanks, which will be displayed to the sponsor automatically as soon as a donation has been made.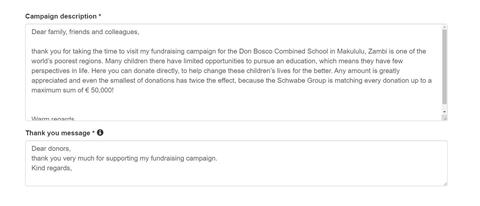 You want to delete your account?

😔
Have you registered, but you don't want to be an Africa Runner any longer? We are sorry to see you go but hey, that's alright! Please contact us directly and we will delete your account immediately. We hope that you will remember the Africa Runners and that you may participate in a running event in the future. And don't forget that you can still donate to another Africa Runner to help support the campaign. Because: 
"Education is the most powerful weapon which you can use to change the world."
Nelson Mandela